Today, you're getting a special on me, guys. A two-for-one blogging day special, in fact.
So, in my last post, I talked a bit about how I'd discuss my feelings and fears about the news that the Grishaverse was getting its own Netflix series.  Granted, I think it is good enough, beyond good enough, to be set on screen. But as it is tied for THE top of the top of my fave series of ALL time, I have seriously high expectations for this thing; in fact, when I first got wind of the news (regrettably, right before my work shift started), the excited adrenaline rush everyone else was currently experiencing (some continue to experience it) faded faster for me, because I started worrying my little perfectionistic head over the moon about stuff, shooting my anxiety up tenfold at work, and probably making me seem a bit… tenser. (I mean, I spent an hour alone worried on who they would pick for the Darkling… xD)
In fairness to Grisha Queen Leigh, via her newsletter, I've seen she put a LOT of time, effort, and thought into this decision, has had many (probably worse) offers she could've taken. But she was told to go with her gut, and go with her gut she did indeed (convincing me further that she is an Intuitive, but another rabbit trail for another day). Netflix is renown for their (fairly accurate) film adaptations, and not responsible (I don't think, anyways) for the Maximum Ride film adaptation, which I initially feared (they ARE responsible for the adaptation of, To All the Boys I've Loved Before). It helps that they will be producing multiple episodes of the series, encompassing the Shadow and Bone Trilogy, the Six of Crows duology, and even bits of The Language of Thorns. (REALLY hoping Ulla and the Darkling will get together!)
So, you might be wondering, why exactly am I worried still? Good producers, Leigh's on the team as an Executive Producer of the show, multiple episodes, more time to divulge precious details… what's the problem?
A couple of problems, actually.
Problem number one was I was a bit confused by Leigh's newsletter email– are they making only 8 eps, 8 eps per season (and one season per book..?), or… what? It was a bit vague, so the confusion worried me a lot. (She did, however, reassure us that they would not smash up the timelines, not badly if at all)
I was also worried which details and snark would be included, and which might be excluded. I'm terrified they'll leave a little, important detail that was in the book outside of the series. I'm scared of who they'll cast for the characters (please, no Twilight guys or Sean O'Pry for the Darkling…), and get facial, eye or hair details wrong. This is incredibly easy to do, for both things– the Harry Potter movies were somewhat accurate, character-appearance-wise, but details-wise, left out a SLEW of things. Dobby and Kreacher are briefly touched on, for instance, but no mention of elf rights or poor, sad little Winky. The opposite is a bit true in The Hunger Games movies– they chose a 30-something actress to portray a 16 year-old, but stuck to the majority of details and plotline in the books. The Divergent series, in movie form, violated both of these– Tris is described as blonde-haired AND KINDA PLAIN (then we get the very physically attractive Shailene Woodley. Because Hollywood.). The first movie in and of itself is fine, but so much detail of Insurgent and Allegiant is drastically altered from the books– likely to please the fans. This irks me to no uncertain bounds. There is a certain integrity even in entertainment, certain boundaries that shouldn't be crossed, and drastic alteration from the book or the story's moral of the story are two of them. Mind, these are also not personal criticisms against actors and actresses who act well, I'm simply pointing out they might not be the best fit for that character. 
Lastly, I am terrified that this is either going to end up like the infamous, The Last Airbender (a movie adaptation of ATLA, one that we do not speak of), and/or newbies who have not read the books and only want to watch the movies/series will delve in with little idea of what they're watching. Worst of all, I'm terrified of it somehow, some way, going bad and the movie/TV/Netflix ONLY people like it, praise it, and are still clueless about the books. My perfectionist reader brain would be ringing like OFF THE HOOK if that were the case. I can only hope (and pray) that both it and the newer, live action series version of Avatar: The Last Airbender (out Fall 2019) do their originals supreme justice when both hit Netflix officially.
To sum: I want to believe in this, I think it has a LOT of potential to be good, to be REALLY good, but am terrified because of the above reasons. I am scared filmmakers and scriptwriters are going to try to mess with Leigh's story, majorly, in a bad way. My consolation is that Leigh used to work in the film/movie make-up biz, so she kinda already has a gist of how it should go. I can only pray this all comes out in an awesome bundle of awesome way.
_______________________________
Pic/GIF creds: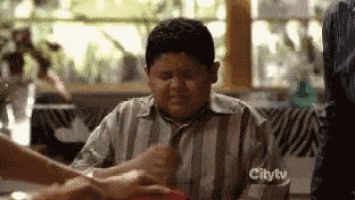 http://www.grishaverse.com/extras/grishaverse-downloads/